Interview with Mr. Parag Mehta, Co-founder & CEO, Evolute Group.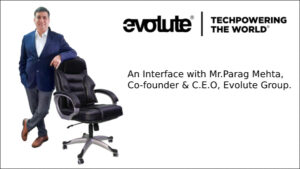 So Mr. Parag, what's the Evolute story?
To put it simply we are Techpowering the World®
We are an Indian technology conglomerate spread across the Fintech, Cleantech, Software solutions & Industrial electronics domains. On a mission of Techpowering the World®, our indigenous solutions are empowering people across the remotest corners of the globe.
We are a proud Make in India company, living the Indian entrepreneurial dream of becoming a technology giant. Evolute group has witnessed growth of the technology space over 2 decades and has contributed towards the electronic payment, Identity Solutions, EV, energy storage solutions & electronic manufacturing industry. Steadily we are progressing towards providing technology solutions for value added digital financial services customized solutions.
The strength of Evolute lies in the 'purpose' – we're not just selling technology or products…we're putting the power back in people's hands, where it truly belongs…!
Empowering them and Equipping them with the resourceful Technology to forge their destiny and have a fair and equal chance at the great things life has to offer.
What makes Evolute really special?
Backed by 3 decades of strong legacy, Evolute Group stands for a technology brand with a purpose – a purpose to provide opportunities for growth to millions of Indians with our diverse electronic products and solutions in Fintech, Healthtech, Cleantech & Industrial Electronics divisions to meet the needs of various sectors across industries.
Being—or becoming—a truly global company is a complicated and long-term undertaking. It's a challenge, but increasingly necessary for a business environment marked by continuing globalization. However, Evolute envisions not just to expand the base, but to participate in the bigger objective of understanding the need gaps & reaching ingenious solutions to those who need them the most in any corner of the Globe.
Over the last 30 years, we've built this brand as one that believes in conscious capitalism and the triple bottom line approach giving major emphasis on people and the planet rather than business and growth; focusing on "we," rather than "me".
It is important for any business venturing into a global space, especially into emerging markets, to charter a plan towards making and remaking itself, not merely on the basis of existing social crisis or deprivation but from the 'people up' approach. Giving more impetus to empowerment, growth and progress of the people and thereby the nation as a whole.
What do you think Evolute's mission and vision is?
Evolute's conscious culture includes accountability, transparency, integrity, loyalty, fairness and personal growth, acting as an empowering force that truly brings out a conscious business to life. And valuable learnings from our dynamic home ground, India – empowers us to proactively adapt, sensitize, innovate and focus on strategic measures that drive overall growth. We've managed to penetrate into smaller towns across all strata through our innovative products and services and positively impacted the lives of millions of people and slowly reaching out to more outside of India.
Tell us about your 5-years plan.
I remember a quote from Nelson Mandela, "Action without vision is only passing time. Vision without action is merely daydreaming. But vision with action can change the world."
I am certain that the Tech Forward vision that we have carved will be the transformative action to keep up with the modern age tech change. Often, the true advantages of transformation emerge from identifying potential synergies across the internal divisions through which everyone can begin to unlock that value. With an Industry 4.0 perspective, we are on a quest to develop smart manufacturing, smart warehouse, and introduce automation instead of manual processes through the deployment of ERP and other resources. Our future-ready solutions spanning across our business offerings have developed a solid foundation to expand at a CAGR of more than 50% over the next ten years.
Along with multiple transformative actions we have sowed seeds of aspiration to grow, innovate and create impact that has resulted in an ambitious project E-Vision 2025. Following the path to empower the world, we've created 5 year plan and concurrently started implementing various strategies to achieve long term goals keeping our purpose at the center.
What are some of the most innovative products or services that Evolute Group is bringing to the World?
For the people, Of the people and By the People! We are here to improve the lives of people all around the world, and we mean it! With our revolutionary and innovative products and solutions, we aim to inspire people and empower their lives. Talking about our products and services, it makes me incredibly happy to see how our innovations in producing Fintech-based payment and biometric authentication devices, POS terminals, micro-ATMs, energy storage & battery management solutions, battery packs for electric vehicles are being used to support the last mile ecosystem, covering the farthest reaches of the globe and help in creating a better tomorrow.
What major threats/opportunities do you foresee for this business? How do you plan to handle it?
As technology develops in the modern world so quickly, businesses always struggle to remain relevant and adapt to the new technologies. If we carefully perceive these challenges as a profoundly disruptive force and a threat that needs to be dealt with, or whether we enthusiastically embrace them as a source of limitless possibility, has to be decided. A few decades ago, navigating such rapid change and instability wasnt tough at all! But without a doubt, the time for action is now. If there is continued demand for the product, in my opinion, new technology will soon take its place. The new technology often outperforms the old; sometimes, it performs worse but costs less to develop, making it more appealing from a financial standpoint. As a result, adapting to change may be the new strategy for handling challenges and opportunities.
Describe some of the strategies you've implemented for business growth. What impact did they have?
Growing a successful corporation is easier said than done, and most of the large conglomerates have their unique success techniques. I feel that Evolute Group has several strategies in place that are based on market trends. Traditionally, a technological conglomerate like ours employs four key company growth tactics; but, I believe there is surely more to it!
there is surely more to it!
1. Identifying what makes us different
It is critical to understand how the brand differs from the competitors. What distinguishes you? What do you have to give that others don't? One must consider why clients favor you over the competition – and vice versa. Identifying your brands distinctive value proposition is critical for recruiting new consumers an strengthening relationships with current customers.
2. Consulting the Stakeholders (Employees, partners)
The stakeholders of a firm are critical to its growth. The management's decision and ideas are taken into account by default, while the contributions of other participants like the employees are frequently neglected. So talking to the stakeholders and find out what they think – they re the ones with the most ears on the ground, so their perspectives on growth and what consumers want are vital to any business growth strategy that one want to execute.
3. Know your customers
Because of the Internet and social media, today's customers are considerably more aware and knowledgeable about various topics. That implies they re more in tune with what they want and how they want things to be; also, the same factors make it much easier for them to take their business to a rival. Companies no longer dictate trends; instead, it's all about the customer.
4. Set checkpoints for growth
The goal here is simple: How to measure growth? According to me the purpose of having business growth strategies is moot when you have no means to measure if you're making progress or not. Looking at the business purpose, and identify the indicators for the business' growth — and investing in resources for growing these indicators will definitely help in business growth.
For more details visit us at- website: www.evolute.in