An Interface with Mr. Varun Arora (General Manager) "Exor India Pvt. Ltd."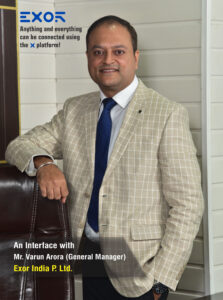 Q : PLEASE BRIEF US ABOUT YOUR ROLE AND JOB PROFILE AT EXOR INDIA PVT. LTD.
As General Manager of Exor India my role is to oversee the complete operations of the Indian business unit, including Sales, Support, Backoffice, Accounts, Admin, Import & Export, P&L etc. I try to meet the strategic goals for India division and teams by setting operational policies and budgets. I supervise employees to perform their tasks effectively throughout. I work with respective managers to ensure employees fulfil their functions and company expectations with set standards & timelines. Here, I must accept and appreciate that I have a wonderful team to take care of the daily operations.
Q : PLEASE BRIEF US ABOUT EXOR INDIA PVT. LTD. INFRASTRUCTURE AND VARIOUS PRODUCTS RANGE.
Exor International S.p.A., Italy, Founded in 1971, offers the World's Largest Family of HMI & HMI with Control solutions focused on enhancing the User Experience. We as Exor India are selling total HMI solutions in the Indian market since 2003 with HO based in Vashi, Navi Mumbai and regional sales team and Channel Partners all over India. Exor India, prides itself in being able to serve its customers throughout India with committed delivery schedules backed by local, skilled, and efficient technical support services. Exor has the range of industrial IoT solutions such as embedded systems, HMI, control panels, IoT gateways, industrial PCs, Cloud and SCADA software.
Q : WHICH KEY INDUSTRIES DO YOU CATER TO? PLEASE SHARE SOME OF APPLICATION AREA?
To achieve Industry 4.0 vision for smart manufacturing, we have IoT Automation Solutions consisting of intelligent IoT controllers, IoT gateways, HMI's and Cloud under the product portfolio of EXOR's virtualized human machine interface (HMI), a key element to Industry 4.0, offering all-around IoT Automation Solutions.
We deliver highest -quality products for Industrial Automation, Marine Automation, Home & Building automation, Oil &  Gas, Food & Beverage, Machine Tools & Robotics, HMI Embedded solution, Extreme & Outdoor Automation and Mobile HMI application.
Q : WHAT ARE THE MARKET OPPORTUNITEIS FOR YOUR INDUSTRIAL AUTOMATION, HMI & IOT SOLUTION PRODUCTS IN INDIA?
A Human-Machine Interface (HMI) is a user interface that creates a medium to connect humans with a device, system, or machine for exchanging information among users & devices. Owing to the mounting inclination toward automation & digitalization, the need for HMI is booming substantially across all industrial sectors.
HMI devices are used most extensively in industrial applications for several purposes like tracking production time/trends/tags, visually displaying information, monitoring machine inputs & outputs, etc. Besides, these systems have multiple forms ranging from built-in screens & tablets to computer monitors, etc., and all aim to provide insights on the mechanical progress & performance.
According to Market research, the India Human Machine Interface (HMI) Market is projected to grow at a CAGR of around 8.50% during the forecast period, i.e., 2022-27. The market is driven principally by the mounting demand for Human Machine Interface (HMI) devices across various industries. Moreover, with the integration of logical software into HMI devices, the overall productivity of the process manufacturing industries have spurred in recent years, mainly due to precise monitoring & reporting. For those businesses looking to begin their digital transformation, look further with Exor as a Technology Solutions partner.
Q : PLEASE BRIEF US ABOUT YOUR UPCOMING OR LATEST PRODUCT RANGE OF HMI.
As companies move to a server-centric model to maintain flexibility in hardware and software choices, a field mount panel & web panels industrial need has increased.
Also for operating freedom, WLAN data exchange and integrated Safety functions there is huge demand for Safety wireless HMI. To address these needs, Exor came out with JSMART series and X5 Wireless HMI's
JSmart
The JSmart series with a great front design is available in screen sizes 5" , 7" , 10" , 15" and 21.5" with multi-touch glass capacitive screen. The JSmart Series has & 1" connector on the back for a 22mm adapter with POE communication. So, the mounting cannot be easier. First, log a mechanical hole 22.5mm. Second, mount the panel with gasket and nut. Third, plug the POE cable into the socket and the panel is ready for use.
JSmart has facilities such as wireless communication where it can be a wireless client or JSmart can be an Access point for other devices.
The dimension is only 16mm & 26mm in depth depending on screen size and has a throughput IP67 density rating.
The JSmart 700 Series is programmed by JMobile, with lots of features like alarm, trend log, reports, prescriptions, automated HTML5 web pages, client options from Windows PC or from other EXOR Panels, and more.
X5
The X5 Wireless Mobile HMI is a compact and lightweight device with an ergonomic design. Wireless connection with certification for safety devices makes this product the ideal solution for industrial applications. Integrated devices (keyboard, potentiometers, handwheel) can be fully programmed assuring a quick use with your automation project. X5 is fully programmable with JMobile.
Working in combination with the Xbase (Base Station) as a peer-to-peer SIL3 rated Wi-Fi connection, the flexibility of the X5 can be realised.
Where there exists the need to easily connect and command movement by distance, where a full day's battery life is useful. Where the fatigue of the operator is important to reduce so that human errors do not occur, the X5 system provides the most ground-breaking solution.
Q : CAN YOU PLEASE BRIEF US ABOUT YOUR MANUFACTURING FACILITIES & R & D ACTIVITIES IN INDIA?
As of now all our major products are manufactured at EXOR International S.p.A., Italy plant located in Verona, which is the first 100% fully digitised factory in Europe. Local manufacturing has been delayed due to the current supply constraints globally, but it is definitely part of our future plans.
R&D has always been the strength of EXOR and as part of it we have a great team of over a dozen people located at Cochin & Bengaluru locations contributing to ever evolving JMobile Studio software.
Q : WHAT IS YOUR FUTURE VISION & GROWTH PLANS FOR "EXOR INDIA PVT LTD.?" IN INDIA?
Growth journey for EXOR India has just begin with achievement of over 100% growth in the last two years and we are targeting to achieve a lot of similar milestones in the future. Our vision for next five years is to be among the top 5 HMI players with superior technology products in the Indian market and we are also looking forward to start local manufacturing in the near future to fuel that growth.
The idea of fully automated plants has been around for a while. The Industry 4.0 has transformed the digital supply chain across industries. Customers' Changing demands, such as personalized and instant services, require organizations to embrace Industry 4.0. With rapid technological change, market participants are partnering with tech-savvy companies like & Exor & to develop new solutions based on proven technologies. Co-operation aims to accelerate digital transformation through the empowerment of manufacturers. With such partnerships and collaborations, manufacturers are focusing on capitalization of 5G, Industry 4.0, and digital transformation, software capabilities to enable the manufacturers to scale up their growth and realize the potential of Industry 4. technologies and solutions. Such partnerships and collaborations are anticipated to boost the demand for automation solutions across industries in the coming years. Of course, Exor will play a vital role in this digital transformation.
Exor India P.Ltd.
Email: sales.in@exorint.com
Website: www.exorint.com